​ SUFFOLK COUNTY ALLIANCE OF CHAMBERS, INC. ​3RD QUARTER 2016 MEETING ​
Friday, September 23, 2016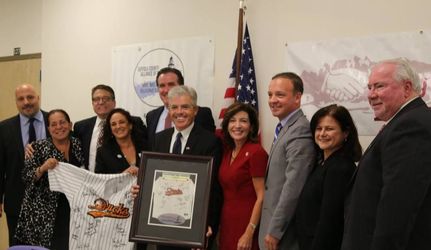 Thank you to Suffolk County Executive Steve Bellone for hosting the 3rd Quarter Suffolk County Alliance of Chambers meeting at the Dennison Building in Hauppauge. He addressed investments for future growth, transportation and the much-needed regional initiatives to keep our youth on Long Island. We were honored to have Lieutenant Governor Kathy Hochul speak on Governor Cuomo's infrastucture and Downtown Revitalization efforts on LI, their important impact to the small businesses in Suffolk County & her suggested follow-up meeting on "Access to Capital" concerns for the SCAC chamber members. NYS Senate Majority Leader John Flanagan spoke on concerns of the $15 minimum wage and alleviating health department regulations for small business at the state and local level.
Special thanks to Legislator Leslie Kennedy for opening the meeting and giving a special moment of silence for our dear friend Scott Martella ~ Suffolk County Communications Director, John Byrne ~ Former Chief of Staff to Supervisor Foley and Judy Jacobs ~ Nassau County Legislator & Former Presiding Officer. Peter Bertuglia provided the State of the SCAC Financial Report and Vision Long Island's Eric Alexander provided an update on small business legislative issues. We also heard from NYS Senator Tom Croci, Suffolk County Comptroller John Kennedy & Suffolk County Legislator Bridget Fleming.
We discussed the SCAC's 1st Year in Review…we listened, we heard and we acted.
We hear what small business needs are and will continue to chart that course and continue to help navigate the gauntlet. Our spot light on chambers included Bob Kern from Riverhead, David Kennedy from Patchogue & Brian Yudewitz from the Huntington Chamber of Commerce. We provided polling results taken in the last year and continue to provide feedback to the business leaders, chambers and elected officials on the concerns to be addressed. Stay tuned for the 4th Quarter SCAC meeting to be announced soon!
We announced joining TEAM "Suffolk Chamber Challenge" in the 2nd Annual Suffolk County Marathon on Sunday, October 30th Click "Register" for details!
We want to thank the Suffolk chambers and stakeholders of Suffolk County for your support and hard work to keep businesses thriving in Suffolk and to "shop local".
Read more about the meeting by clicking LIBN's article "Suffolk Business Group Focuses on Challenges".
Sincerely, ​
Bob Fonti & Gina Coletti, Co-Chairs Suffolk County Alliance of Chambers, Inc.